How a VMI Program can Mutually Benefit the Buyer and Seller
Vendor Managed Inventory (VMI) and Bin Replenishment Services (Bin Service) are proven approaches to inventory management. They can help improve the relationship between the Vendor and the Customer by coordinating business objectives and optimizing operations for both parties.
Both the Customer and the Vendor can benefit greatly from a well-managed VMI system. For instance, a buyer might see:
Improved cash management.

Cash-flow restrictions may be reduced because inventory levels are reduced. Inventory is not bought and held waiting on production requirements. On-site safety or buffer stock is no longer required.
With lower stock requirements you have lower carrying costs. The Customer reduces the cost of storing and maintaining their inventory.

Inventory management costs can be decreased.

Many of the costs associated with inventory management are shifted to the Vendor. A VMI manager can be assigned by the Vendor to make physical inventory counts, prepare the quotes and submit them for approval.
Improvements in order accuracy, delivery, and timeliness can be achieved through a good VMI program. The Vendor's automated VMI program can reduce the Customer's costs by accurately tracking usage, stock levels, costs, and delivery schedules. This data can then be submitted to the Customer for review or use in their own tracking systems.
The Vendor's VMI app can be set up to cross-reference the Customer's part numbers. This cross-reference helps reduce errors when placing orders, managing the stock, and tracking usage and delivery.
The Receiving Department and Accounts Payable will spend less time processing paperwork. Consolidated deliveries and invoicing will help speed up each department's processing time.

Site layout and routing can be improved.

The Vendor can offer on-site logistical support. From the stockroom to the production area, traffic flow and routing are important to the VMI Programs' success.
Proper layout of the stockroom, as well as the types of packaging, will help improve efficiency. Appropriate labeling and organization will reduce the time required to find the parts.
Suitable planning for the work areas including parts storage also plays an important part in inventory cost reduction. The VMI Vendor can provide input on routing, types of storage bins or shelving that may have an impact on the production line.
Many of the benefits that the Customer receives are also advantages for the Supplier. On the Vendor side, a well-managed VMI program can:
Improved cash management.

Being able to anticipate customer requirements, the Vendor can stock accordingly.
Consolidating deliveries will reduce transportation costs.

Inventory management costs are decreased.

By use of the VMI app, stock level tracking speeds are increased. Quotes and Order submissions are automatically processed by the appropriate VMI Manager.
Time spent cross-referencing parts and preparing orders is reduced.
Historical data can be used to track usage, pricing, and schedules, further reducing the time necessary for processing orders.
The Shipping Department and Accounts Receivable will benefit from the consolidated deliveries and Invoicing.
Bin Services and Vendor Managed Inventory (VMI) Programs
Bayou City Bolt offers two types of Inventory Management Services. Our Bin Service is a customer-managed program that provides the flexibility to suit their current project requirements. Our Vendor Managed Inventory Program is a full-service package in which we actively work with the customer to develop an effective fastener inventory management services system.
Bin Service
The Bayou City Bolt Bin Service program is a customer-driven, customer-managed program. The customer will determine their requirements; the types of bins, the fasteners required, and schedules. This provides maximum flexibility for the customer. The customer can adjust their purchasing as project requirements or assignments change with our fastener bin services.
The Bayou City Bolt VMI program is, due to geographic restrictions, limited to the greater Houston, TX area. However, due to our solid relationships with a variety of transportation providers, our Bin Service program is available nationwide.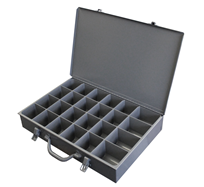 After consultation with the customer regarding their goals for the program, stocking requirements, and delivery schedules, Bayou City Bolt will prepare the first Work Order for shipment. Bayou City Bolt will ship the required bins, labels, and fasteners, packaged individually. The customer may then reorder as necessary or set up recurring deliveries. We will keep records of previous purchases and deliveries in order to guarantee materials will be in stock. The Bayou City Bolt Fastener Bin Service provides the ultimate flexibility to our clients.
A knowledgeable fastener bin management supplier
Smaller version of our VMI Program
Customer-driven and managed.
Parts are pre-packaged for easy placement.
Works well in the shop or maintenance vehicles.
Variety of bin types and sizes are available
Improves inventory management.
Stocking requirements can be adjusted based on the anticipated workload.
Scheduled delivery of replacement fasteners.
Customers can create inventory lists, review pricing, and scheduled delivery dates.
Vendor Managed Inventory
At the other end of the spectrum, The Bayou City Bolt Vendor Managed Inventory Program is a full-service package in which we actively work with the customer to develop an effective fastener inventory management services system.
When a company chooses the Bayou City Bolt Vendor Managed Inventory (VMI) program, we can work with the customer in a variety of ways. A member of our sales staff will meet with the customer's purchasing staff, as well as any end-users, in order to accurately determine the scope and requirements of the VMI program. At this meeting, we will be prepared to discuss the customer's overall concept of a VMI program and what they hope to accomplish. We will also be prepared to discuss the types and styles of bins, the customer's fastener requirements, as well as schedules and purchasing requirements.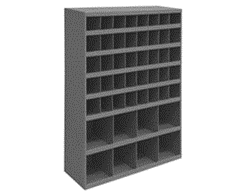 As a pretext for this conversation, we would ask any potential customers to consider the following questions:
What are your goals for the VMI program?
Work-flow – how do the components make it to the work area?
What and how many activities are required to procure and move components to the work area?
What are the physical routes taken? How can they be minimized?
Do these routes provide access for the bins? How much area is available?
Are there:

Shared work areas
Tool and parts rooms
Inventory controls for the stock room and the work areas?

Inventory Control –

Which items are restocked most often?
Do you need safety stock? How much?
Who is responsible?
Bayou City Bolt has provided fasteners to many of the different industries along the Gulf Coast since 1962. We have over 35,000 square feet of warehouse space, which includes 5,000 square feet dedicated to our VMI program. With over 35,000 individual line items in stock, we can quickly fill and ship your order. That is why at Bayou City Bolt, our motto is;
To Spec – On Time – In Budget
Family-owned and operated; Bayou City Bolt has been a leader in the fastener industry since 1962. With seven warehouses covering 35,000 sf of inventory, chances are we have the fastener you need, when you need it.