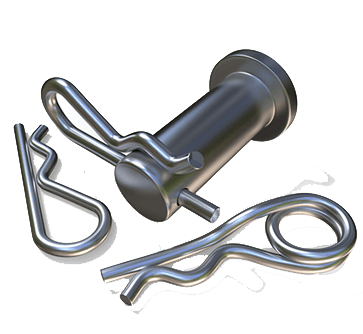 Machines streamline tasks in the workplace and at home, but they're comprised of multiple components that must work in unison for effective operation. Pins from Bayou City Bolt could be the optimal solution when you're looking to align, mount, or lock together workpieces. As a leading pins manufatcurer, our team offers cotter pins, taper pins, dowels pins and more.
As a leading U.S. Gulf Coast fastener distributor, Bayou City Bolt carries pins in many types, styles, materials and sizes. We offer the industry's best prices, turnaround times, and customer service without minimum order quantity requirements. Whether you're looking for thousands of steel Cotter Pins or one stainless steel Dowel Pin, our team would love to be your pin supplier.
Importance Of Pins
Pins are threaded or non-threaded fasteners used to permanently or temporarily secure components or equipment. When inserted into a hole, they prevent axial movement, support proper alignment, and counter sheer forces.
Specific performance and functionality characteristics vary by type, but common pin features include:
Assured Fastening Solution
Affordable
Durable
Many Sizes, Shapes, And Material Types Are Available
Manufactured To Precise Dimensions
Types Of Industrial Pins We Carry
When it comes to industrial machinery, the smallest component can influence the entire assembly. Bayou City Bolt stocks pins in many configurations, sizes, and material types, enabling you to select the suitable fastener for your application.
Here's a breakdown of pin types and their performance characteristics. If you're unsure which is best, don't hesitate to contact us. With vast fastener expertise, our team can provide the information you need to make a sound decision.
Cotter Pins, Or Split Pins
As a leading cotter pins manufacturer, our cotter pins have two prongs that separate during installation, which results in secure fitment. Also called Split Pins, they're not ideal for re-use or applications where resistance to strong shear forces is essential. Typically manufactured from soft metal, this pin type is used to secure other fasteners, including Clevis Pins and Castle or Slotted Nuts.
Clevis Pins
Designed to perform like hinges, Clevis Pins are suitable for applications where creating movable connections between mating parts is critical. This pin type is available threaded and unthreaded. Unthreaded Clevis Pins have a domed head at one end and a cross-hole at the other. A Cotter Pin is typically used to keep the Clevis Pin in place. Threaded Clevis Pins are partially threaded on one end and feature a formed head at the opposing one. The head's base has a flange with a cross-hole through the tab. The tab permits easy installation, while the cross-hole allows the pin to be tie-wired.
Dowel Pins
As a leading dowel pins manufacturer, Bayou City Bolt has the type of dowel pin for you. This pin type is a small, straight cylinder used to align components before they're combined with other fasteners. Made from solid material, Dowel Pins are often used as precise locating devices in machinery. Steel Dowel Pins are typically machined to tight tolerances, enabling them to correspond with precision drilled holes. A Dowel Pin may have a smaller diameter than a hole, permitting it to slip in freely. The pin can also have a larger diameter, allowing it to be pressed into a hole.
Taper Pins
A Taper Pin is a steel rod with a slightly larger diameter on one end than the other. Typically used as a hole alignment aid, this pin type is available in robust steel and corrosion-resistant 18-8 stainless steel. The standard taper is 1/4" per foot. As a taper pins manufacturer, our team of experts is able to assist you in all your needs.
Spring Pins
Spring Pins, or Roll Pins, are fasteners that secure the position of two or more parts relative to each other. These are cylindrical pins rolled from a strip of material with a slot, allowing flexibility during insertion. Usually, a Spring Pin has a larger body diameter than a hole diameter. A chamfered end helps start the pin into the hole, and spring action enables compression for adapting to the hole diameter. The force exerted against the hole wall keeps the pin in place. Considered self-retaining fasteners, Spring Pins are ideal for use in double-shear applications.
Coiled Pins
Coiled Pins are self-retaining fasteners with a hollow, cylindrical shape. Also called Spiral Pins, they're manufactured by rolling metal strips into spiral cross-sections of 2-1/4" coils.
One-Stop Industrial Pin Source
You have a lot on your plate when trying to complete a job. Contacting countless Dowel & Taper Pins distributors to find out if what you need is available shouldn't be one of them.
With an extensive inventory, Bayou City Bolt likely has the steel and stainless steel pins you need in stock and ready to ship. If we don't have what you want, our team will contact pin manufacturers and make it happen on your behalf. As a result, you're free to focus on what you do best.
An unwavering dedication to customer satisfaction has made us the trusted Cotter & Clevis Pins supplier for many clients. Pins we distribute support equipment used in many industries.
Contact us to learn more about industrial pins. We're here to discuss your requirements in greater detail.