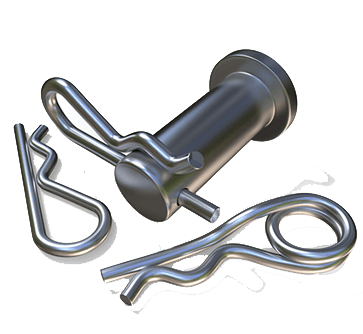 Bayou City Bolt carries a variety of Pins used across an assortment of industries. Cotter, Dowel, and Taper Pins are stocked in a full range of sizes such as:
Plain steel
Zinc Plated
Stainless Steel
Many other types of Pins are available in steel, and some can be ordered in stainless steel.
Clevis Pin
Hitch Pin
Spiral Pin
Spring Pin
Roll Pin
Cotter Pins
Cotter or Split Pins are typically made of soft metal which makes them easy to install and remove, but also makes it inadvisable to re-use them or use them to resist strong shear forces. Split pins are frequently used to secure other fasteners, such as clevis pins. Another common application of Cotter Pins is when they are used to secure Castle or Slotted Nuts. As a cotter pins supplier, Bayou City Bolt is able to assist you in all your needs.
Clevis Pins
There are two main types of Clevis Pins: threaded and unthreaded. Unthd Clevis Pins have a domed head at one end and a cross-hole at the other end. A Cotter Pin is used to keep the Clevis Pin in place. Threaded Clevis Pins are partially thrreadeeaded on one end with a formed head on the other. The head has a flange at the base with a with a cross-hole through the tab. The tab allows for easy installation of the pin and the cross-hole allows the pin to be tie-wired.
Clevis Pins should be closely fitted to the holes in the clevis or shackle. This will help to reduce wear and tear, which will decrease the failure rate of the pin and clevis. As a clevis pins supplier, Bayou City Bolt is able to assist you in all your needs. Contact us today to learn more.
Dowel Pins
As a leading dowel pins distributor, Bayou City Bolt is able to assist you in all your needs. Dowel Pins are often used as precise locating devices in machinery. Steel Dowel Pins are manufactured to tight tolerances, designed to fit within corresponding precision drilled holes. A dowel pin may have a smaller diameter than its hole so that it freely slips in, or a larger diameter so that it must be pressed into its hole.
Taper Pins
A Taper Pin is a steel rod with one end having a slightly larger diameter than the other. Typically used as an aid in hole alignment. Taper Pins are available in steel and 18-8 stainless steel. The standard taper is 1/4" per foot. Bayou City Bolt, leading taper pins distributor, is able to assist you in all your needs. Contact us today to learn more or request a quote.
Spring Pins
A Spring Pin is a type of fastener that secures the position of two or more parts of a machine relative to each other. Slotted Spring Pins are cylindrical pins rolled from a strip of material with a slot to allow the pin to have some flexibility during insertion. Slotted spring pins are also known as roll pins. Spring pins have a body diameter which is larger than the hole diameter. Spring Pins are chamfered to help start the pin into the hole. The spring action of the pin allows it to compress as it adapts to the diameter of the hole. The force exerted by the pin against the hole wall keeps it in place. A Spring Pin is considered a self-retaining fastener and is designed for use in double shear applications.
Coiled Pins
A Coiled Spring Pin, also known as a, Spiral Pin is a self retaining fastener produced by rolling a metal strip into a spiral cross section of 2 1/4 coils.