Screws
Bayou City Bolt carries a wide variety of Machine, Tapping and Wood Screws. We keep hex head, round head and pan head in stock. Drill point screws as well as construction fasteners are available as well. We also stock specialty screws such as Tamperproof, Thread-Cutters and Set Screws.
Drill Point Screws
Lag Screws
Tek Screws
Drywall Screws
Lag Screws
Machine Screws
Set Screws
Thread Cutting Screws
Thread Rolling Screws
Rolok
Tamperproof Screws
Thumb Screws
Wood Screws
U-Drive Screws
MACHINE SCREWS
The term Machine Screw typically refers to small diameter, general purpose screws. Machine Screw diameters range from #0 (1/64") up to #14 (1/4"). Machine screws are threaded to be used in a tapped hole, or with a nut to join two mating surfaces.
Additional Specification
TAPPING SCREWS
Tapping Screws, also known as Sheet Metal Screws have the ability to "tap" their own internal thread when driven into metallic and non-metallic materials. These sharp threads cut into a material such as sheet metal, plastic or wood. By cutting their own thread, they create a good thread fit which increases resistance to loosening while in service. The shank is usually threaded up to the head.
WOOD SCREWS
Wood Screws are formed in a similar manner to tapping screws. However, the thread length is approximately two-thirds the nominal length of the screw. The unthreaded portion of the shank is designed to slide through the top board (to prevent binding) so that it can be pulled tight to the board it is being attached to.
LAG SCREWS
Lag screws, also sometimes called lag bolts, are basically "large wood screws". A typical lag bolt can range in diameters from 1/4" to 1 1/4", and lengths from 1/4" to 6" or longer, with coarse threads similar to a wood-screw. The head is typically an external hex. Lag bolts are used to lag together lumber framing, to lag machinery feet to wood floors, and other heavy carpentry applications.
THREAD FORMING SCREWS
Thread forming screws, or Thread Cutters, were designed to extend Tapping Screws to thicker and/or harder materials. Thread Cutters have cutting flutes or edges at their point so that the screw will act as a tap and cut its own mating threads.
GOVERNING STANDARDS
| | |
| --- | --- |
| ASME B18.6.3 | Machine Screws, Tapping Screws, and Metallic Drive Screws (Inch Series) |
| ASME B18.6.1 | Wood Screws (Inch Series) |
| ASME B18.6.4 | Thread Forming & Thread Cutting Tapping Screws & Metallic Drive Screws (Inch Series) |
| ASME B18.2.1 | Square, Hex, Heavy Hex, and Askew Head Bolts and Hex, Heavy Hex, Hex Flange, Lobed Head, and Lag Screws (Inch Series) |
| SAE J933 | Mechanical & Quality Requirements for Tapping Screws |
HEAD STYLES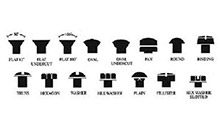 DRIVE STYLES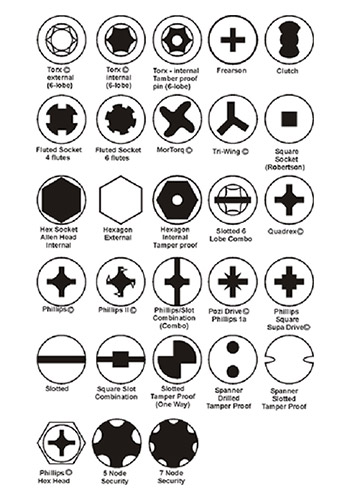 MACHINE SCREWS - US STANDARD
| | | Thread Diameter |
| --- | --- | --- |
| Size & Thread per Inch | Decimal | Nearest Fraction |
| # 0-80 | 0.06" | 1/64" |
| # 1-64 | 0.07" | 5/64" |
| # 2-56 | 0.08" | 3/32" |
| # 3-48 | 0.09" | 7/64" |
| # 4-40 | 0.11" | 7/64" |
| # 5-40 | 0.12" | 1/8" |
| # 6-32 | 0.13" | 9/64" |
| # 8-32 | 0.16" | 5/32" |
| # 10-24 | 0.19" | 3/16" |
| # 12-24 | 0.21" | 7/32" |
| # 14-20 | 0.24" | 1/4" |
Back to Top
MACHINE SCREW - METRIC
| | Thread Diameter |
| --- | --- |
| Size & Thread Pitch | Decimal |
| M1.6-.35 | .063" |
| M2.0-.40 | .079" |
| M2.5-.45 | .098" |
| M3.0-.50 | .118" |
| M4.0-.70 | .157" |
| M5.0-.80 | .196" |
| M6.0-1.0 | .236" |
| M8.0-1.25 | .315" |
| M10-1.50 | .393" |
| M12-1.75 | .472" |
Back to Top
DRILL SIZES FOR THREAD ROLLING TAPPING
SCREWS AND TYPES D,F,G & T THREAD CUTTERS
| Screw Size | Mean Hole Diameter | Drill Size | Drill Diameter |
| --- | --- | --- | --- |
| 2-56 | 0.076 | 48 | 0.076 |
| 2-64 | 0.077 | 48 | 0.076 |
| 3-48 | 0.090 | 44 | 0.086 |
| 3-56 | 0.090 | 44 | 0.086 |
| 4-40 | 0.097 | 41 | 0.096 |
| 4-48 | 0.100 | 41 | 0.096 |
| 5-40 | 0.110 | 35 | 0.110 |
| 5-44 | 0.112 | 35 | 0.110 |
| 6-32 | 0.119 | 31 | 0.120 |
| 6-40 | 0.124 | 31 | 0.120 |
| 8-32 | 0.146 | 20 | 0.147 |
| 8-36 | 0.148 | 20 | 0.147 |
| 10-24 | 0.165 | 19 | 0.166 |
| 10-32 | 0.172 | 11/64 | 0.1719 |
| 12-24 | 0.192 | 11 | 0.191 |
| 1/4-20 | 0.221 | 2 | 0.221 |
| 1/4-28 | 0.230 | 2 | 0.221 |
| 5/16-18 | 0.281 | K | 0.281 |
| 5/16-24 | 0.290 | K | 0.281 |
| 3/8-16 | 0.339 | R | 0.339 |
| 3/8-24 | 0.353 | R | 0.339 |
| 7/16-14 | 0.397 | X | 0.397 |
| 7/16-20 | 0.411 | X | 0.397 |
| 1/2-13 | 0.457 | 29/64 | 0.4531 |
| 1/2-20 | 0.475 | 29/64 | 0.4531 |
Back to Top
DRILL SIZES FOR TYPES AB, B, AND BP THREAD FORMING
TAPPING SCREWS AND TYPES BF & BT THREAD CUTTERS
| Screw Size | Mean Hole Diameter | Drill Size | Drill Diameter |
| --- | --- | --- | --- |
| 0-48 | 0.046 | 56 | 0.0465 |
| 1-42 | 0.059 | 53 | 0.0595 |
| 2-32 | 0.072 | 49 | 0.0730 |
| 3-28 | 0.084 | 45 | 0.0820 |
| 4-24 | 0.096 | 41 | 0.0960 |
| 5-20 | 0.107 | 36 | 0.1065 |
| 6-20 | 0.116 | 32 | 0.1160 |
| 7-19 | 0.129 | 30 | 0.1285 |
| 8-18 | 0.138 | 29 | 0.1360 |
| 10-16 | 0.159 | 21 | 0.1590 |
| 12-14 | 0.182 | 14 | 0.1820 |
| 1/4-14 | 0.211 | 4 | 0.2090 |
| 5/16-12 | 0.270 | I | 0.2720 |
| 3/8-12 | 0.333 | Q | 0.3320 |
| 7/16-10 | 0.386 | W | 0.3860 |
| 1/2-10 | 0.449 | 29/64 | 0.4531 |
Back to Top